Our philosophy about employing staff is that is always better to first date than to jump into a marriage forever. We have created an employment model that will assist organisations in
getting the right match every time when it comes to employing staff.

Our claim to fame is that we can provide any type of temporary staff within 2 to 5 business days. We are also very competitive with our rates.
Identifying the GAP :
When an organisation has identified that there is an urgent need for temporary staff we can fill that GAP (Refer Graph 2). It might be year end and accounting staff is required or the HR Manager has resigned with short notice and an urgent need for a temporary HR Manager has arisen. Whatever the need we can assist.
Graph 2
Our model is described below :
When an organisation realises that they need staff in a certain area, they can approach us with the specifications/requirements for a specific position that has to be filled. We will search and identify candidates for that position. They can then be interviewed and if found to be suitable be appointed temporary to first test their performance and if they fit into the culture of the organisation.

If the organisation is satisfied they can either appoint them full-time or keep them on a temporary basis. If they are not satisfied for any reason they can return the temporary staff by giving 24 hours' notice (no questions asked!) and we will then replace the staff member if required.

We do placements and secondment of staff on a temporary basis (The rates for the temporary staff will be negotiated and will differ depending on the level of the staff required).

Our rates for the placement of permanent staff are also very affordable at 12% of cost to company for the first placement and 10% of cost to company for subsequent placements.
Decision Tree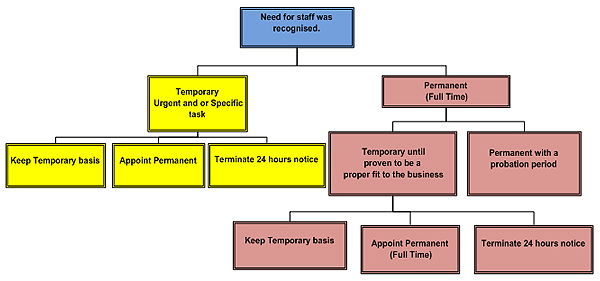 Secondment Service
We have provided the following type of staff to different organizations:

Consultants;
Auditors.
Accountants including CA (SA)'s;
Finance staff; and
Administrative staff.